As the Autumn night's draw in I was looking back on photos from last week's Grand Design Live exhibition which inspired me to shine a Renovate Me light on forecasting trends for interiors – and even though it's the season of the witch there's not a crystal ball in sight!
Faded Grandeur Interiors – walls that appeal
I blame those staycations and cultural holidays spent traipsing around stately homes where I'd steal a sight of on-going renovation work via a snatched glimpse courtesy of an ajar door. A  sign apologising 'we're not quite ready to show you yet' piques my interest even more as unfinished or partway renovations have a certain romance if you ask me. But while the appeal of walls that have their plaster peeling off might not, in reality, be quite as compelling, wallpapers that can mimic this effect certainly are.
And it seems I'm not the only one – wallpaper finishes which emulate crumbling Venetian monastery walls or imitate decaying 18th-century chateau are certainly gaining in popularity.  It's fair to say that this is possibly a natural progression given our love affair with chalky, flat matt paints. It would appear it was only a matter of time until the interiors and renovation worlds would take this a step further by stripping the walls right back. That's not to say however that you can get your walls plastered and then leave it at that. Au contraire! As with many undone looks, the irony is that they take a lot more staging than those that aren't!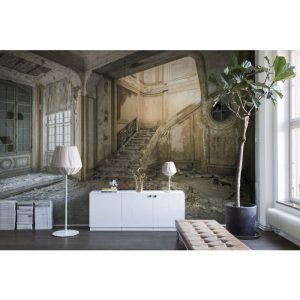 However, a good start for interiors is getting the wallpaper right first so that the rest of your look has a solid foundation from which the distressed look can serve as a beautiful backdrop. But if you want to add a certain je ne sais quoi to your own castle what about the raw Chateau wall panel pictured?
Woodcutters lodging renovation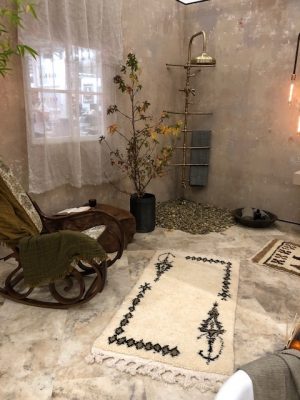 As staged rooms go I must admit this one did make me look twice.  If Jason Bourne or Jack Ryan were to go truly rogue and live off grid the humble woodcutters lodging which would house them would sure to be style thus. Unfortunately, only the bathroom was given the renovation treatment but it was certainly enough to inspire how to use textures to maximum effect and was a masterclass in muted earthy tones. Brushed copper free standing shower with a hint of old Victoriana, plush rugs instead of bath or shower mats, distressed voile at the window and a vintage rocking chair completed the look.
Office space with curve appeal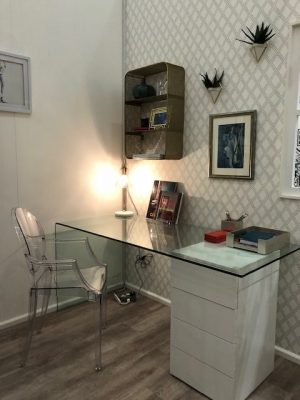 As more and more of us are working from home at least once a week it wasn't surprising that one of the staged rooms given the renovation treatment was an office space. The simplicity of this room belied the excellent use of space. An ingenious curved / moulded plastic desk with Philippe Starck chair added a sophisticated air to the proceedings. This was both function and style combining to an elegant effect. Curved wire shelving gave way to softly geometric wallpaper and similarly shaped plant holders. Corner lighting illuminated across the space and clever book stands acted as space savers and interchangeable art pieces depending on mood. Simple but extremely effective this small office space packed a style punch that would be easy to copy and make your own.