With only one day left to visit the Grand Designs Exhibition at the NEC fans of all things renovation may be concerned they'll miss out on the latest trends, gizmos and got to know tips. Well, worry not, we've literally done the legwork for you. With six home shows in one exhibiting space, we nailed our daily step count target by 3 pm so you can sit back and let us guide you through our top ten exhibitors at the renovation rally. So, without further ado, and in no particular order – virtual drum roll please:
1. The Ultimate Indoor Outdoor entertainment space can be provided by Breeze House Designs. Now, these are gazebos on steroids. Luxury outdoor buildings with thatched roofs so you can enjoy entertaining outdoors whatever the weather throws at you. www.breezehouse.co.uk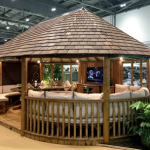 2. Brick Slips are given a revamp with these Fire Glazed versions in a set of hot colours with a peppercorn grain, ready for a 2019 launch. Brick Slips have adorned homes,  as well as shop interiors including exclusive brand Chanel using them. www.brickslips.co.uk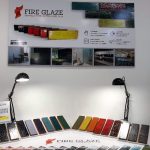 3. Up, Up and Away: Upcycling takes to the sky with aviation artefacts morphing into interior design pieces courtesy of Dappr Aviation. While these plane parts may not be scaling the sky anymore this is upcycling taken to another level – who said the sky's the limit? www.dappr-aviation-shop.com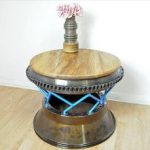 4. If we're heading for the sky we couldn't help but mention Morgan Ellis Lifts. Why take the stairs when you can alleviate the trudge and move without walking. https://www.morganellis.co.uk/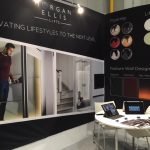 5. Let's talk Tongue and Groove – it's not a dance move – it's a renovation revelation. Now, for many of you who can recall, way back when tongue and groove was the colour of honey pine and used to either don the walls of saunas or cheaply cover walls that needed a good plaster, it's now had a renovation all of its own. Now enter The English Panelling Company. According to their literature, they only use best quality Moisture Resistant MDF, sold in manageable sheets so they can be easily couriered. The panels come in 5 different styles Victorian, Georgian, Regency, Jacobean or Edwardian and there are dado and picture rails to compliment. www.englishpanelling.com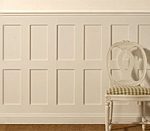 6. Short on space? These interior sliding doors are not short on inventiveness. Not only do they mix well with period features they also work well in modern spaces where space is in short supply but the style isn't. www.eclisse.co.uk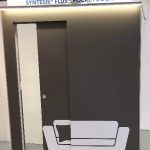 7. Want to make a splash in the shower or kitchen then bespoke splashbacks from Cherry Glass Designs may make you turn your back on tiles. Stunning designs and toughened glass – just send them your dimensions and they'll do the rest: https://www.cherryglassdesigns.co.uk/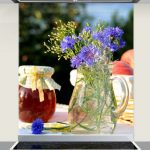 8. As the saying goes 'the devil's in the detail' and design demons Dowsing & Reynolds are certainly bright sparks. Their light switches, lights and furniture handles herald an era of new classics using quality leather, and sublime finishes – including copper, smoky gold and silver to maximum effect. www.dowsingandreynolds.com/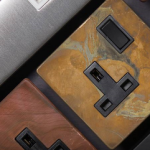 9.  And from new design classics to a designer pool, ping pong, poker and football tables. There's nothing like being really hands-on when you're old school gaming and these guys are at the top of their game. Transparent pool tables and multifunctional ping pong tables which discretely switch to dining room pieces are certainly grown up gaming at it's best. www.quantum-play.com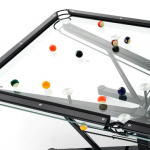 10. Most of us have a bad dog from time to time. Although this is an altogether different type, Bad Dog Designs create stunning pieces using clocks and nixie tubes.  http://www.bad-dog-designs.co.uk/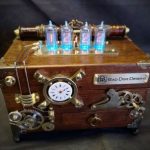 Bonus mention, it's "bin" a great day! Having owned one of these sensor bins I couldn't let a design classic go unblogged. The touchless sensor bins got a mini renovation with a cute ladybird design which is specially made for kitchen or table tops. Can you find which stand they are on?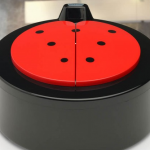 Did you visit Grand Designs Live? We'd love to hear from you.