Balconies are a common feature in much of mainland Europe — all the way from the Alps to the Algarve — and a growing number of UK homeowners are now looking to join the trend. This is because they can completely transform the look and feel of your home. They offer a low maintenance space for relaxing or entertaining and larger windows or full height glass doors can also be fitted to let more light in.
If you are considering installing a balcony on your home, there are a few things you need to think about:
Juliet or Full Balcony?
When you say 'balcony' many people will think of a large outdoor platform projecting from the side of the building, but that isn't the only option. A Juliet balcony (no prizes for guessing where the name came from) is essentially a railing which sits directly outside a window. Whilst these features won't add any extra space to your house, they offer a cheaper alternative to a full balcony and can allow you to fit full height doors on upper storey rooms.
Of course, if your budget allows, then a full balcony will usually provide the best solution. What could be better than rolling out of bed and enjoying the sunrise from the comfort of your bedroom!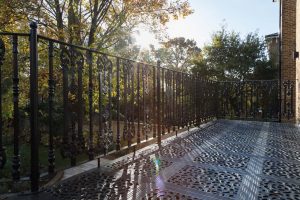 Do I Need Planning Permission?
You can safely assume that planning permission will be required for any full balconies. It may be possible to avoid this step with a Juliet balcony, but this depends on whether your property is listed or within a conservation zone. In either case, it is always worth approaching any neighbours in advance to check if they have any concerns. This way you can ensure the plans are sympathetic to their requirements.
One solution we occasionally provide is to fit tall, decorative screens on either end of the balcony, this gives adjoining properties more privacy without affecting your enjoyment of the space.
What Materials Should I Use?
This will depend on a whole range of factors including the age and design of your property and your personal taste. Glass balustrades tend to complement more modern buildings, whilst cast metal balconies provide a natural fit with Victorian, Edwardian or Georgian buildings.
If you opt for a metal balcony, it is definitely worth considering cast aluminium. This metal is stronger and more durable than traditional alternatives and is about one third the weight of cast or wrought iron. As a result, cast aluminium balconies often require less structural support — saving you time and money during the installation.
Will It Raise My House's Value?
As with any change to your property, there are no guarantees. However, a well thought out balcony should at least retain its value as well as making the property more desirable for potential buyers. In cities such as London, where land is extremely expensive, the additional floor space is more likely to have an impact with research showing it can raise a home's value by as much as 12%.
Should I Add a Staircase?
If you want the balcony to act as an area for entertaining, then it makes sense to consider adding a staircase. This can help to tie the balcony with your garden — allowing you to get more out of both spaces. Often a spiral staircase will provide the simplest solution thanks to their compact footprint size.
Is There Anything Else to Consider?
The balcony surface needs careful consideration. A wooden deck may look nice but can also act as a slip hazard and unless treated regularly can have a shelf life. Perforated metal gratings can provide more grip along with better drainage. They also allow daylight to pass through the balcony and into any rooms below.
British Spirals & Castings offer a range of bespoke balconies and sp

iral stairs

 all manufactured right here in the UK. If you would like more information, then get in touch, and we'll happily help you find the right solution for you and your home.
Disclaimer: This article is sponsored by British Spirals and Castings.