While the backdrop of Brexit may be making some people cautious about a potential home move, the renovation market in Shrewsbury seems to be flourishing. Local estate agent and member of the Land and New Homes Network Roger Parry & Partners are attracting active buyers and have agreed a sale on a property ripe for upgrading in just ten days!
The property in need of modernisation not only sold subject to contract in less than two weeks but has an agreed sale of over £300,000!
Currently, Roger Parry & Partners have several properties ripe for restoration and renovation and the prices are exceptionally reasonable despite the fashionable Shrewsbury postcode.
On the outskirts of Shrewsbury opportunities await; the majestic Grade II listed property in Pontesbury or perhaps an ample building plot and while this isn't strictly Shrewsbury this derelict cottage in nearby Oswestry in the deliciously named area of Candy is a treat of a price with offers over £125,000 invited and last but certainly not least an end terrace for just £100,000.
Larger renovation projects in and around Shrewsbury
Current projects in and around the town include the renovation of the derelict Flaxmill Maltings. Once the £2.5 million project is completed, the 220 year old building will provide a mixed-use development with community, residential and commercial facilities.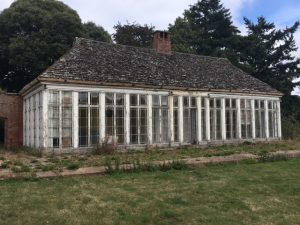 You may remember my visit to see the restoration of the timber-framed Pitchford Hall. In October, Shropshire Council granted the listed building consent to allow renovation work to commence on the orangery. However, the first stage involved creating a new habitat for the bats with a view to complete the work by the end of 2019, so watch this space! And if you are embarking on a project with bats then you may find this article on bat survey helpful.
But what's so special about Shrewsbury ?
Well, it's hardly surprising that renovation projects are sought after in the medieval market town which prides itself on preserving its past and not building on it! And it's probably this unfettered history which is why troops of tourists visit with many deciding to stay and become Salopians themselves. The main town centre with its black and white Tudor buildings and winding cobbled streets are a real crowd pleaser with both tourists and residents, so too is the healthy ratio of independent shops to main high street names with Wyle Cop mooted to have the longest uninterrupted row of independent shops in the UK.
Nestling in the heart of the town is the beautiful River Severn, which sits inside the loop of the river and gives the location its unique shape. The river plays host to an annual Regatta – one of the oldest events in the rowing calendar having first been held in 1871. The river also provides a beautiful backdrop to one of the country's premier flower shows which features television personalities, celebrity Chefs, singers and a magnificent firework display.
Aside from an ample events calendar what makes Shrewsbury properties so attractive for renovators are the schools. Home to many independent schools one of which educated noted naturalist, geologist and biologist Charles Darwin. However, it's not just the plethora of independent schools that are worth a mention, Shrewsbury's state schools are ranked among the highest with The Priory and Mary Webb having high average attainment scores across eight subjects including English and Mathematics.
However, if you're not quite convinced of the town's charms don't just take our word for it, the location often features high in the ratings for Best Places to Live in Britain including the Sunday Times list and not forgetting its status as Britain in Bloom 2018 Gold title holder as well as housing Britain's Favourite Market.
All in all, Shrewsbury is rather a hidden gem for lovers of renovation which we do fear talking about might render this a thing of the past – so do us a favour – keep Shrewsbury our little secret!