We live in a world where home automation isn't the stuff of science fiction anymore. As a result, those choosing to renovate are typically including automation in the planning stages and so should you if you're considering a build project. I'm a great believer in finding the best go-to person you can if you are after any advice. And, when it comes to electronics, you cannot get better than Luke Hastilow, Senior Electronics Engineer for Rolls-Royce who I managed to catch up with recently for a blog post about home automation and what you need to know to achieve a smart house.
What are the advantages of home automation?
Set the lighting to create a mood whether it's dimmed for a movie, relaxing or bright. You can control any number of lights from one simple command.
Set the sound to create your favourite music to play, audiobook or radio when you arrive home or when you want to sing in the shower!
Save energy and money by turning off devices when you leave your home or at certain times. For example, dim lights for the middle of the night in your bathroom, automated lights in the utility room or wardrobe that detect your presence or turn the heating off when you go out.
Security by switching devices on and off automatically when you are away (so that it appears your home is occupied) you can even play music. Answer the door or monitor your home when on holiday.
Classic automation, control devices with your voice or motion, open the curtains with your voice. Switch on the TV or stereo, all without getting out of bed. Water the plants when you're on holiday or even feed the cat!
Control devices and implement restrictions, only allow your children to play on the computer at certain times.
What does the "Internet of Things" mean?
Thanks to the ubiquitous Wi-Fi network there is now a hidden connection between everything with network connectivity and this is what is known as "The Internet of Things". A "Smart" device is any device that is able to connect to the Internet. In the past, this was reserved for only complex devices such as computers and smartphones, however, due to the ever progressing miniaturisation of electronics, and cost-reduction due to mass-production and demand in the market – Internet connectivity is finding itself embedded into everything, from washing machines to Hi-Fi, right down to the humble light-bulb.
Do I need to get an electrician to have home automation?
No. Gone are the days of having to re-wire your house to automate it.
What "smart" devices are available?
The most common are:
• Smart Bulbs for lighting, these include Red, Green, Blue (RGB) – – to set the colour – in addition to standard dimmable embedded, low-level and primary lighting. A "Smart" bulb can be picked up online for as little as £3. The only thing you have to be sure of is that it will talk to your home automation application.
• Smart Sockets for switching on and off such as lamps, radios, computers, TVs, even a water pump for watering the plants.
• Smart Locks can be installed in UPVC units.
How do I link a device to create a home automation system?
In this example we are using "Google Home" as our centralised controller, so all you have to do is check that the controlling app for the "smart" device will talk to Google Home. Here is an example: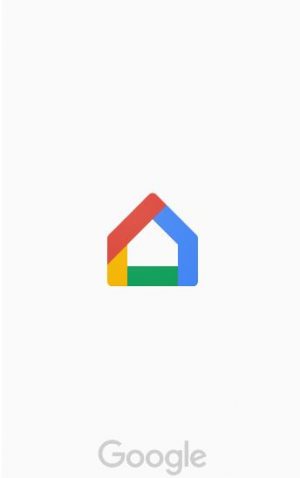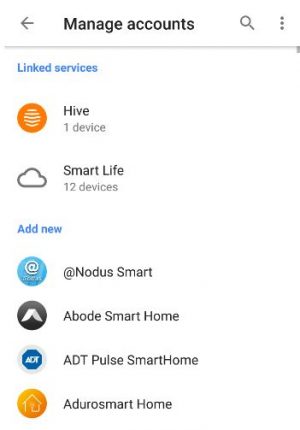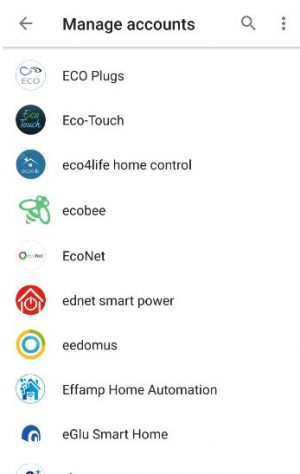 The Google Home App; On adding a device, we can choose to link a plethora of "Smart" device controllers or "Linked services". This is the basis for integrating and building your smart home.
So the keyword here is what is known in the industry as "Smart" devices. And home automation is achieved simply by creating a network of "Smart" devices, with a central controller – "Google Home" in this case – that will automate them.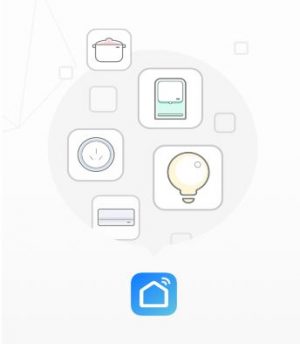 It's important to realise that because "Google" home is running on your phone or tablet that it doesn't need to be in your home because the control is done via the Internet. Thus, even if you are not running the app, it will still operate.
The automation is done via Google's servers, not your phone or tablet; your handheld device is simply an interface to configure it. All you need is a Google account (an e-mail account essentially) and you are done. Furthermore, this enables installation of the Google Home app on multiple devices too (since it's only a configuration interface), so you can use any device – and any persons device – to control it. The other advantage of this is that this control can be done from anywhere in the world – just provided you have internet access, and access to your Google account. This could be on at work, on holiday, or control of your smart home from your bed!
Will I be safe if I create a home automation system?
People often think that if a device is connected to the internet it is vulnerable to hackers etc – think someone standing outside your house with a suspicious looking laptop – however, this is simply not true. When you create a network of "Smart" devices in your home, the actual devices exist on a private network with a completely local IP address unique to your Internet router, not accessible from the outside world. Where control steps in (e.g. Google Home) this is via a secure network connection as you would expect for your bank account or email, and in this instance (with Google Home), Google are at the forefront of secure networking technology, as you would expect and demand. There is nothing to fear. Moreover, there's the common-sense too; why would anyone want to hack your living room lamp? From the angle of both security systems implemented, and hacker motivation, the chances of having your home automation hacked are few and far between.
What are the steps to create a home automation system?
1. Acquire a "Smart" device – eBay is the marketplace for IoT devices. It doesn't have to be Google or Amazon branded, or even mainstream manufacturers such as Philips or OSRAM. You just have to check that the app used to control the device will talk to Google Home (or your chosen central controller) and you can do this with a little research and checking the list. As your first device, an RGB bulb is recommended;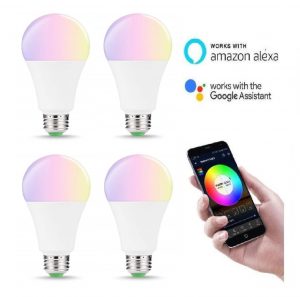 2. Follow the manufacturer's instructions and set it up with its own app and ensure its working.
3. Then link the two, and check it works.
4. Now set it up (set a room, a name, etc.)
Now try that with a "Smart" socket. As with all consumables, branded products tend to be more expensive, that's why eBay is recommended, just check the reviews, and of course: that it is compatible with your centralised controller (in this case Google Home).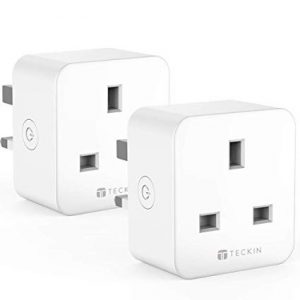 Smart Sockets; often available in very discrete forms as shown above
We can even go one step further and control the heating. For example, HIVE will integrate with the Google Home app in addition to their own offering; NEST. Simply, check the compatibility. You now have control of the heating via your phone or voice, from anywhere in the world.
One of the most powerful features of modern home automation is voice control. You probably didn't realise how useful the Amazon Alexa or Google Home device would be until you explore it with home automation.
In this example, we will use the "Google Home Mini" device to control your newly set up lights, and it's very simple.
Simply say "Turn off <device name>…" – where device name is what you called your "Smart" device set up previously – and off it goes, it's that simple!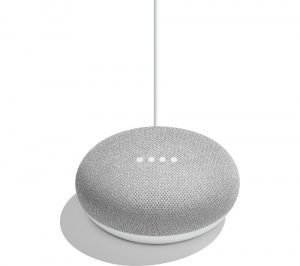 One of the features offered by Google Home and similar central controllers is the ability to set scenes. For example, "Night Mode" or "OK Google, I'm home" (resulting in setting the lights to a specific configuration and putting the radio on).
You can configure Scenes easily with the Google Home app, just open the page and look for "Routines" from the main screen.
The same applies to timers, and groups. To create a group simply configure the app, Google Home will have already grouped things by room to start, e.g. say "Turn off Living Room" to turn OFF all Smart devices in your living room.
The possibilities here are endless, some example scenarios; leaving/returning from your home, going on holiday, evening mode, movie mode, dinner-time mode, set the thermostat, switch of all the lights, turn the heating off. Your creativity is the only limit here.
The Google Home App also seamlessly integrates streaming services. You could simply say: "Play Jazz FM UK" or "Play some Folk music" and away it goes. If you have multiple Google Home Minis, simply name them; E.g. "Play some folk music on Bedroom 2 Speaker" or "OK Google, be quiet!" to command it to stop playing. Integration via YouTube, Spotify, and many more are offered in the Google Home app, simply set it up in the App.
Moreover, it's not just light-bulbs and sockets that can be automated.
Google Chromecast is a device that enables you to "cast" video content to it. Simply plug it into your TV and set it up in the Google Home app (call it Bedroom 1 TV for example), then say "Play Cliff Richard videos on Bedroom 1 TV" having previously set up YouTube as the content provider. These devices can be used with a variety of streaming services, including Netflix, Spotify, YouTube and many more.
The Google Chromecast Audio is a similar device for music only (and Hi-Fi quality is possible with its SPDIF (Digital Audio) output. Simply plug the audio out connector into the back of any amplifier or device with an AUX in, and you have streaming music from the internet or your phone in Hi-Fi quality in an instant. Forget struggling with Bluetooth connections; in the home, Wi-Fi is king. If you want ultra high-quality, use the SPDIF output and your own DAC.
As with any highly user-friendly software such as the Google Home App, there are limits. Most notably what triggers we can use for automation etc. However, just like how Google Home combined with third-party Smart device's manufacturer software, it can also combine with other apps that offer more automation possibilities.
On Android, IFTTT is an excellent app that will link to Google Home (or other Smart home networks), enabling automation to be triggered by just about anything. E.g. simple events such as your location or the day of the week, to advanced events including the current weather situation (e.g. turn on a motor via a "Smart" socket that reels in the washing line if rain is forecast. Again, the possibilities here are endless.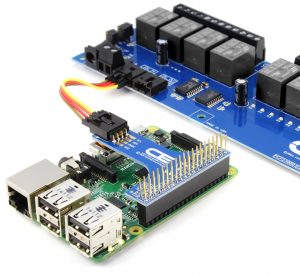 Although definitely for the more technologically adept, the Raspberry Pi can connect to your Smart Home and allows advanced power control via a suitable Relay module. For example, lights in your Garden or Greenhouse, or even pumps in a home distillery. All controllable from anywhere in the world, via your voice.
What are your top home automation tips?
• When shopping for Smart devices the market is huge and devices are often from China. Try to be confident in the quality of the item – remember it is always "on" and check reviews before purchasing.
• Checking scene functions work when you add another device (e.g. that new light might not be included in the scene).
• Installation; remember filling your house with smart devices concealed in places can be problematic. Electronic devices emit heat, always be sure not to cover them or box them in an air-tight enclosure.
• Ignore the scare-mongering on power-consumption; although smart devices are always on, they use very little power (typically 0.3W in standby). You would need 100 devices in your home to consume the same power as a low-wattage light-bulb.
• Always read the manufacturers instructions; some smart sockets are not intended to switch heavy loads (e.g. an electric fire). Always check the ratings and prioritise safety so that you have confidence and can enjoy the benefits of living in the future!