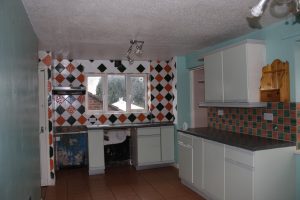 Last week I visited a friend for a bite to eat and a catch up; this friend is renting a house near the town centre. Over dinner, my friend disclosed to me that she and her partner were planning on moving back in with their parents to allow them to save for a mortgage. I agreed with her that this was was very sensible given that it is much easier to save when living with parents.  However, this is where our agreements ended.
My friend's view was that we should all aim to buy a new build house, using the government-led help to buy 5% mortgage scheme.  This led to a passionate debate regarding the quality of new houses and the potential to personalise your home.
It's easy to see why people like new build houses; everything in a new house works, it's ready to move in almost immediately, they're designed to minimise bills.  These arguments from her all received a dismissive 'supposedly' from me.
I then dissected each point down and added in some of my own thoughts to put the metaphorical nail in the coffin and win the debate. So, as for the ready to move in straight away aspect, the likelihood is that you will be moving into a standard spec house without feeling like you have had any input into the features of the house unless you have a strong passion for magnolia.
To further cement my point (using a little research), recent studies conducted by the RIBA led to a consumer guide about sizes and space of new houses to help determine if a house will even be suitable for the consumer's needs, showing the worry amongst professional bodies about the lack of space available in new dwellings.  According to this study: 'More than half of the new homes being built today are not big enough to meet the needs of the people who buy them. This squeeze on the size of our houses is depriving thousands of families of the space needed for them to live comfortably' – architecture.com/RIBA/campaigns (thank you Google).
The other reason which leads me to state that my dear friend's points are invalid is this: when you buy an old house in need of renovation you are buying a piece of history and character. Metaphorically an older lady who has been there, done it and seen it all. Once that doesn't feel like the sprightly 20 year old she once was, she becomes a lady in need of a spa day and a good pampering to get her glow back. Peeling back the layers of a house is almost the same as peeling off that face mask to reveal a beautiful complexion underneath. Sure it might have doodles and scribbles on from the kids that were there in 1964 or but it's just added a story to your investment, a tangible link to the past. But in essence you are left with a blank canvas. A chance to start again, a chance for the old lady to reinvent herself.
Extensions and remodelling, new wiring, new plumbing, new windows, new insulation. These are all chances to upgrade on the existing, to transform it into what you want it to be. A chance to fix the mistakes of the past and to add your personality.
You and your old lady have been on a journey together; a journey where you have bonded, which you can look back upon in satisfaction.  Not only will the old lady have grown and got her stature back but you may find the journey has helped you to grow too. Try finding a sense of pride like that when you buy a new soulless house, identical to 7 others on your densely populated street.
Put another twenty pence piece in me and I will be able to passionately spout off many more reasons why I would rather take on an older property or renovation, rather than a new build. But, as with last week with my friend, I have run out of time (and word count). And just as last week, we may end up just agreeing to disagree.
For those of you who also care about my friendships, I'd like to point out that myself and the afore-mentioned companion are still friends and that I am invited round to their new house for dinner in the near future.
Contact Richard Cole
Email: richard.cole@berrybros.com
Tel: 01743 239023
Mobile: 07469 852403