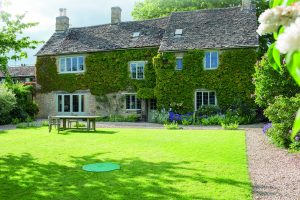 Now Autumn is upon us and the leaves are falling off the trees, we've all noticed that the colder weather has started to creep in. Whether you love winter or loathe it, the changing seasons are a reminder that no matter where you're renovating, you need to make sure your new home has an efficient, safe and reliable heating system.  
 If you're renovating a rural property, the security of your fuel may be a concern to you. Many people renovating off the mains gas grid may have inherited an oil heating system from the previous homeowner.
However, there are risks attached to using oil as your fuel source, such as fuel theft – which can pose a threat to keeping your family warm and snug through the colder months.
Rural theft cost an estimated £37.8m in the UK during 2014, with oil in the top three items targeted by thieves[1]. In addition to this, information obtained by Calor shows there were 1,606 reported incidents of oil theft last year[2], and this is just the tip of the iceberg.
Oil theft
So why is fuel theft such an issue in rural areas? Heating oil is easy to target as tanks are quite large, and thieves need only to trespass onto the property, pierce the tank and then siphon off the oil to sell on. This causes great expense through repair or replacement of the tank and oil, and there may also be environmental damage from spillages to clean up.
Meanwhile, you're left cold, uncomfortable and vulnerable, and living in a house with no heat.
Peace of mind
In comparison to oil, LPG is virtually impossible to steal, as it would require specialist equipment to be extracted from a gas tank. Gas tanks can also be buried underground making them more difficult to spot.
Not only does LPG offer a more secure option in terms of risk of theft, there is also a greater security of supply.
You can always rest assured knowing that your fuel supply is safe, and you should never run out of gas with Calor, as the tanks are fitted with a clever telemetry system that automatically reorders a delivery of gas when you're running low; meaning one less thing for you to worry about. Calor also has the UK's largest tanker fleet and substantial UK gas storage facilities.
Bob and Annie
[youtube https://www.youtube.com/watch?v=5KiSQuumsxQ]
Bob and Annie had been using oil to heat their home for years, but it wasn't until they experienced oil theft first hand, that they decided to look into alternative options. "We'd been struggling with oil in terms of cost for a while as we had an old boiler that wasn't hugely efficient", said Bob.
"Then, on three separate occasions, we had oil stolen from our tank. One time, we had only just filled up and so we lost over £1,000 worth of oil, literally overnight. That was all the encouragement we needed to look at a more efficient and secure way to heat our home.
"Following a visit from the police, we were told that there was not much we could have done to protect our oil from being stolen and in fact, we learnt that oil theft is on the rise in rural areas. We were advised to look into alternative options and turned to Calor after recommendations from our neighbours.
"It's difficult to steal, and an underground tank was really attractive to us because we like our garden. What's not to love?"
Switching to gas in your home couldn't be easier, it's simple and hassle-free, and if you sign up with Calor for your home heating, they'll currently install an above ground tank and connect you to gas for free*.
For more information and to discuss how Calor can meet your home energy needs, call 0800 085 5023 go to www.calor.co.uk/home-energy.
[1] http://www.nfumutual.co.uk/farming/initiatives/rural-crime/
[2] England & Wales Oil Theft Figures 2014 obtained by Calor via FOI requests