Thatching a roof is one skill Bryan Draycott didn't anticipate doing but led to a career lasting over 20 years, I managed to catch up with Bryan recently for a blog post about thatching and what you need to know if considering to buy a thatched property.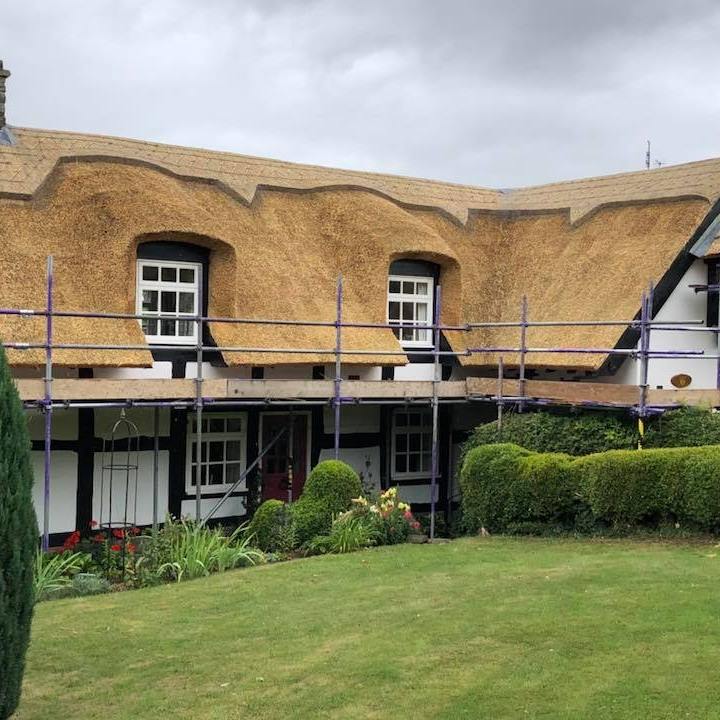 How did you get into thatching?
We wanted to thatch our house, however, when I enquired with the local Thatcher there was a 7-year waiting list! I was 42 and running a driving school, I'd never climbed a ladder to get on a roof so knew nothing about thatching. I decided to train as a Thatcher and attended a course in Northamptonshire. It was strange going "back to school" at a later stage in life, I was with school leavers who were also learning about the traditional methods including hedge laying and stonewalling.
What types of thatch exist?
There are four main types of thatch:
Water reed, also known as Norfolk reed because of it's original source but a large quantity is imported from Europe now.
Combed wheat reed/wheat straw – travels through a thrashing machine and is combed to look like a reed.
Long straw – this is a type of thatch which has not been through the combing machine.
Heather – not as popular as the other 4 types and seen more in Scotland.
Which do you think is the best type of thatch?
Water reed is best, it is tougher and lasts longer.
How do you train to become a Thatcher?
You must find a Thatcher to take you on as an apprentice and complete the three-year course.
Is a thatched roof recommended for a new build or barn conversion?
Yes, there must a fire-retardant material underneath the thatch to comply with building regulations.
Which counties are best to visit to see thatched properties?
Herefordshire, Devon, Somerset, Norfolk, Suffolk and of course Shropshire
What are the considerations of water run-off and drainage?
Obviously, there is no guttering, so we recommended that chippings are used rather than concrete around the perimeter of the property. All thatch roofs must have a minimum pitch of 46 degrees, so the rain and snow runs off faster.
How long does it take to thatch a roof?
Usually a month, the job is very labour intensive. Years ago, a Thatcher was restricted to work during the summer but now a Thatcher can put up a sheet over the property and work all year round.
Have all the properties you've worked on been residential?
90% of the properties I'd say have been residential, I've worked on a few pubs such as The Pound and The Hundred House and many properties within a museum setting.
Did you have a craft signature?
Yes, I always put a pheasant on the ridge. However, if the property was a listed building then it was important to replace like for like. I always told people that the pheasant on top of the house kept the witches away.
Is it difficult to source thatch?
Availability and prices can vary throughout the year. Combed wheat reed tends to come from Devon and can be more difficult to source as it has to be made using the old farming methods. Water reed tends to be available all year round and can be sourced from Norfolk or Europe.
How often does a thatched roof need to be replaced?
Water reed roof – approximately 50 years
Combed wheat reed – approximately 30-40 years (lasts less because it is a softer material)
Long straw – approximately 10/15 years
Heather – usually up to 10 years.
How much does it cost to thatch a roof?
For an average 3 bed detached cottage in the region of £8-10,000.
What is the process to thatch a roof?
There are two ways;
If quite an old covering then take all of the thatch off, put fire material on and use new thatch
Put a new top layer, held on with hazel or willow sticks called spars, this is referred to as a spar coat.
What is the rate of wear?
The thatch typically wears down 1 inch every 10 years, when the roof gets down to 5 inches then it needs redoing
Are there grants to thatch roofs?
English Heritage and local authorities sometimes have grants available if the property is listed. Some years ago parts of Mid-Wales could claim 50% towards a new thatched roof. There were many thatched roofs which were covered with tin to protect from the bombs during the war, they were a complete fire hazard.
Is there ongoing maintenance?
The ridge should be replaced every 13-15 years because that gets most of the weather. Some people try to say you need a fire retardant injection but I've not seen this used effectively, it washed out with the rain and I never felt it worked.
How many thatch roofs have you done?
Over 200 during my time as a Thatcher.
What was your most interesting job?
I was in bed, late one Monday night and the phone rang, it was a chap asking for me to thatch a roof. He said he was in Boston, I automatically assumed Lincolnshire however it turned out to be Boston, Massachusetts! He'd visited England some weeks before and had seen some of my work. I arrived there on the Thursday, the work involved thatching a little village within a museum to celebrate American Independence, I was there for a month.
Is it more expensive to insure a thatched property?
Sometimes, I've found it is more cost-effective to use a specialist thatch insurer.
Is thatch environmentally friendly?
Yes, because all the materials are renewable.
What are your top 3 tips for owners of a thatched property?
Get the chimney swept every year
Electrical test every 10 years
Keep bonfires away from the property
What advice would you give to someone looking to buy a thatched property?
Get a Thatcher to look at the property with you, there'll give you an indication of the life length of the ridge and roof.
Go into the loft and check if there is a fire retardant material underneath the thatch.
Check the chimney for damage and wear.
How is the ridge made?
The ridge is made from straw thatch because reeds won't bend. In Norfolk they sometimes use sedge from the marshes. The ridge is covered with wire to keep the birds away.
What's the biggest thatch job you've done?
The largest roof was a property in Tarporley, Cheshire – it took 3 months!
In your opinion, what do you think is one of the largest thatched properties in the world?
I believe it could be the Christmas Tree Store, which I think is the biggest DIY shop in the world. Twelve Thatchers from Devon/ Dorset went over to America to re-thatch the roof.
In your opinion, what is one of the most famous thatched cottages?
I would think Ann Hathaway's Cottage, Stratford is one of the most famous.
What are your best memories?
In 1984, Princess Diana visited Shrewsbury to see the youth training centre, we made a wishing well made out of thatch ready for her visit. Princess Diana stroked the thatch, she called me Mr Thatcher and asked why I put a pheasant on the roof, I explained and she said "oh I didn't know there were witches in Shropshire" and I replied, "there aren't because my birds keep them away!"
I also worked for the late Duke of Westminster, his stables had a thatch covering. One day a Range Rover pulled up as we were finishing off thatching a roof and the driver pulled out his gun to shoot the pheasant, I shouted "you can't shoot", he replied "I'm only joking" and it was the man himself. What a relief, I thought.
What happened to the business when you retired?
My nephew, Paul Draycott took over the business, he's been thatching since he was 13 years old and I'm very proud the business is still going today.