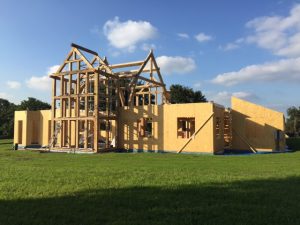 PICTURE CAPTION: Here's one Shropshire Self build project to be finished in 2016.
A new year's gift to those wishing to make their Shropshire self-build a reality or for those wanting an alternative way to get on the property ladder has come in the guise of free, monthly meetings led by regional property experts.
Real-life examples at the monthly forums include how a Shropshire cottage was designed and built to a budget of just £100,000 as well as information about self build building regulations.
Shropshire Self-Build Interest Group founder, Tony Parker said: "The group was set up to provide a network of local people with interest in self build. With the aim that the network would provide support for those interested in building their own home as well as answer questions which people have so they can make informed choices about one of the fastest growing ways to get on the housing ladder as well as build the home of your dreams."
Sarah Pugh, Director of Renovate Me said: "It's no secret that the UK is in a housing crisis; with the population predicted to hit 70 million by 2027 there is a significant housing shortage. The Government target is for 240,000 homes to be built each year to meet demand but with less than 120,000 homes built in 2014 the stats alone tell us we're failing miserably.
"However, the Government has committed to tackle the housing shortage with self build and custom build firmly on the agenda. Placing a duty on councils to allocate land to facilitate the building of 20,000 custom and self-build homes a year by 2020."
Covering topics from self-build regulations to real life self build examples as well as an open forum to ask experts the questions would-be self-builders need answers to – why not take your step to self build in Shropshire a touch closer in 2016?
Sarah said "It's a great way for people to share ideas and knowledge in order to avoid the many pitfalls that can occur. Since the launch of Renovate Me I have found I get a lot of enquiries from people who are keen to know more about self-build. Shropshire is lucky to have a dedicated meeting for those interested. I'm delighted to be part of the group and sharing the knowledge I have face to face with people."
Events planned for 2016 include:
Saturday 16th January
Venue: Perry Cottage, West Felton, SY11 4HE, 2pm
Perry Cottage was designed and built by the architect Robert Morris. Robert's design brief was to build a dwelling of 100 sqm, budget £100,000, the for structure to last 100 years and running costs of £100 per year. Robert hand built the timber frame and carried out all the construction single handed. Come and see how well he delivered his brief, a very good example of self build. Please reserve a place by emailing info@shropshireselfbuild.org.uk
Saturday 6th February
Visit to PYC Systems Ltd, Meifod, Powys, SY22 6DA, 9:30am
PYC Systems Ltd are a building material distribution company delivering and supporting class leading insulation and intelligent vapour retarder products.
During our visit the PYC group will present a talk giving an overview of the advantages of using timber frames, the benefits and applications of Warmcel and how PYC Insulation works. In addition they will talk about the services offered by PYC Systems, including Pro Clima for airtightness, and Isoplaat wood fibre boards for external use on the frame, as well as air tightness testing and MVHR uses. We will also have the opportunity to see around the insulation demo room and learn how best to apply the Pro Clima membranes and tapes. Please confirm your attendance at info@shropshireselfbuild.org.uk
Thursday 10th March
Venue: Theatre Severn, Shrewsbury 7:30pm
Speaker Steven Manterfield of Approved Inspectors Limited will provide an insight into compliance with the current building regulations.
All the group events are free. For more information visit www.shropshireselfbuild.org.uk