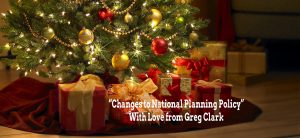 Are you feeling Merry or are you a Christmas Grump?  Here's a Planning Policy present for you, which might turn you into one or the other, depending on your perspective.
The label on this present reads, "To everyone (including the homeless)".
The wrapping paper has houses interspersed with Christmas trees.  When you tear it open at first glance it looks like another boring present written by the Government.  But wait.  The title comes into view and it reads, "Changes to National Planning Policy".  Could this possibly be a GOOD READ?
The author appears to be the Person-In-Charge, Greg Clark.  Greg's last work was the National Planning Policy Framework (NPPF), which took the country by storm and is still making waves 3 years on.  Greg has since been promoted to Secretary of State and now has a powerful positon in the Cabinet.  Perhaps his sequel might be even more thrilling?
Opening the cover, it appears that the focus is on delivering more housing.  Perhaps good news for the next generation.  And perhaps good news for those wanting more suitable housing to downsize into.
The gold is a new definition of affordable housing, expanding it beyond traditional housing association properties to include discounted housing that can be bought and sold on the open market.  This is a path to a house for those who can't currently afford one.
Gold does not make a Christmas, so let's widen the analogy.  In Bethlehem the kings brought to the stable gifts of gold, frankincense (a very expensive holy, fragrance) and myrrh (used in burials).  A bit of a hint of trouble ahead, perhaps?
The frankincense here turns out to be a push for higher density housing 'hotspots' around commuter hubs.  I'm not sure if this will smell better from fewer cars, or worse from public transport fumes…. The National Planning Policy Framework Changes also include new towns and new villages.  Perhaps the Government have in mind a New Jerusalem in England's Green and Pleasant Land?
The myrrh is represented by a resurrection for brownfield land, by introducing a strong 'presumption in favour' of any housing re-development on brownfield sites.  New life for old places.  However it may also lead to deliberate killing-off to create 'brownfield' sites on business premises.
The document also talks about allowing small schemes of up to 10 houses on windfall sites, including sites immediately adjacent to settlement boundaries.  This could be another lump of gold, but might equally turn into a lump of coal for the New Year.
Christmas started in a stable.  Let's hope this is Good News for everyone who likewise finds themselves struggling to find a decent place to live.
Merry Christmas and a Happy New Year!
Helen Howie
Helen.howie@berrybros.com 01743 239028