When it comes to renovating a property, there are a number of ways to be more 'clever' about your refurbishment. This may mean adding an extension, opening up living spaces by knocking through walls, or undertaking some of the easier jobs yourself to keep costs down.
If your home is in the countryside and has no access to mains gas you'll also need to be clever when it comes to your heating and hot water. This doesn't just mean choosing an efficient boiler and opting for smart heating controls, but also making sure you select the most appropriate fuel type for your rural renovation.
Oil has traditionally been default fuel option for off-grid homes, however there are a number of alternatives including electricity, solid fuel, renewables, and LPG – which is fast becoming the fuel of choice for smart rural renovators. So what makes LPG such a clever choice?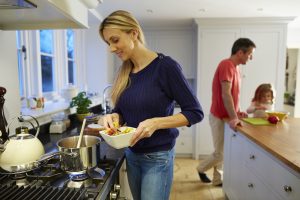 It's versatile
Using LPG means you don't have to compromise on convenience or versatility, as it's just like having mains gas, and is perfectly suited to heating, hot water, gas fires and even tumble dryers! You'll even have all the benefits of cooking on gas with an instant, controllable flame and the additional reassurance that you can still cook in the event of a power cut.
It's secure
You can rest assured that you won't fall victim to fuel theft, which is common in rural areas as oil tanks are relatively easy to identify, pierce, and siphon oil from. In contrast LPG is virtually impossible to steal, and tanks can also be buried underground, leaving more room for you to enjoy your outdoor living space.
It's clean and efficient
LPG is the greenest and cleanest of all off-grid fossil fuels as it produces less CO2 and harmful emissions than oil or solid fuel. LPG boilers have also been found to achieve efficiencies of 90 per cent or more and are compatible with a range of clever energy saving heating controls.
It's reliable
Even after installation, you need not worry about running out of fuel as Calor tanks are fitted with automatic top-up technology that orders fuel top ups when required. Calor also has the UK's largest delivery fleet, giving you extra peace of mind that there is always a plentiful supply.
It can be combined with renewables
If you're interested in renewables, but want the reassurance of a back up energy supply, a hybrid solution that combines LPG with systems such as such as an air source heat pump can offer an ideal solution.
There are storage options
There are a number of storage options available to suit your home, no matter what your requirements. These include above ground tanks, underground tanks, and compact 4-packs of cylinders – ideal if you have limited outdoor space. What's more, Calor will install an above ground tank completely free of charge and will connect you to gas for free.
So for more information on why Calor LPG is the clever choice for heating your rural renovation, call Calor on 0800 121 7827 or visit to www.calor.co.uk.